In our today's collection are the best software for converting audio. You can choose the format you are interested in for later listening to your favorite music on various smartphones, tablets and players. Application data, in addition to transcoding, will provide useful features for adjusting sound quality, editing tags, burning CDs, and more.
Xilisoft Audio Converter Pro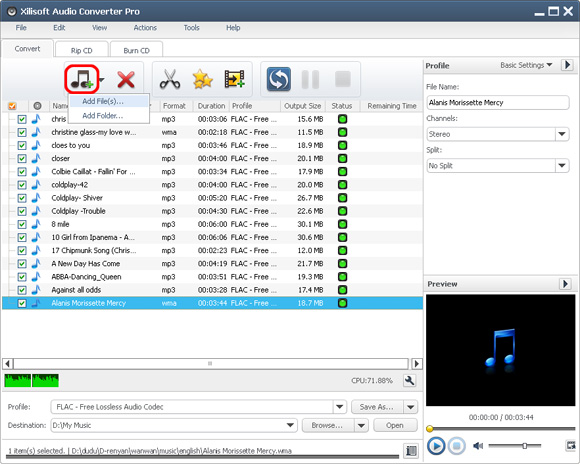 Xilisoft Audio Converter Pro is a powerful mp3 converter that allows you to convert audio files to any format without loss of quality. Allows you to manually adjust the bitrate, as well as select stereo and mono modes. Contains tools to copy and create tags.
The simple interface of the program will not cause any difficulties even for novice users. Especially for beginners, a convenient system of prompts in the form of pop-up windows is implemented. After processing the music files, you can listen to them in the integrated media player.
Advantages:
-Built-in CD ripper;
-Provides high quality sound;
-A tool to extract audio from video;
-Ability to select the necessary codecs;
-It is undemanding to resources of your computer;
-Quickly and easily converts multiple files to the desired format at the same time;
-Automatic updates of the audio converter from the official developer site.
Program4Pc Audio Converter Pro
Program4Pc Audio Converter Pro supports more than a hundred popular audio formats, including MP3, AAC, FLAC, APE, M4R, M4A, WMA, OGG, WAV, WAVE and others. A batch conversion tool is available; there is support for the Drag & Drop function, which makes it easier to add sound files.
The software can create profiles for various mobile devices. It features the ability to download media from various Internet resources, including YouTube Video. Simply click on the "Add URL" button located in the upper left corner of the interface and, in the opened window, enter the necessary link.
You have advanced tools for setting up audio codecs, sampling rates and bit rates. Thanks to the Russian-language localization of the main menu and high-speed operation, it is extremely easy and simple to manage the utility; you can convert audio files by pressing a few keys.
Features:
-Allows you to extract sound from the video;
-Trimming and joining music videos;
-Recording information on optical media;
-Fine adjustment of sound parameters;
-Create ringtones for iPhone and Android gadgets (mp3, m4r, amr);
-Manual selection of the directory for saving content;
-Compatible with Windows 7 and newer versions.
EZ CD Audio Converter
EZ CD Audio Converter is a program for converting tracks from AudioCD to MP3, OGG, FLAC, WAV, WMA, AAC, AC3, AIFF, APE formats, etc. Allows you to edit tags, can record CDs, supports multisession work. It is especially useful when you need to convert files from a disc for playback in the player or on the phone.
Features:
-Record music on CDs;
-Clear Russian-language interface;
-Low system requirements;
-Convenient controls;
-Option to extract tracks from Audio CD;
-Automatic download of metadata of songs from the Internet;
-Connection of additional modules and plug-ins;
-Automatic adjustment of the optimal speed of burning.
If you do not have time to install the software and you need to quickly convert an audio file from one format to another, use the online file converter. This service allows you to quickly and free convert audio, video files and images.